What are my views on the recent controversy between Planned Parenthood and Susan G. Komen?
Claim: Planned Parenthood doesn't offer mammograms so it shouldn't receive funds from Komen.
My Thoughts: It's true that Planned Parenthood Centers don't have mammography equipment. However, health care practitioners at Planned Parenthood provide clinical breast exams and instruction in how patients can perform self-exams.
Self-exams and clinical breast exams are critical to breast health and early detection. They are the first line of defense in the fight against breast cancer. In addition, if a patient or practitioner finds a lump, Planned Parenthood provides necessary referrals for biopsies and follow-up care.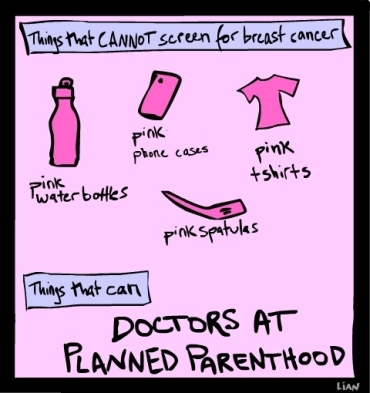 Claim: Susan G. Komen isn't fiscally responsible.
My Thoughts: According to public financial records, 82.5% of the funds that Susan G. Komen receives go to program expenses. I view that as fiscally responsible, as does Charity Navigator and the American Institute of Philanthropy. Komen gave $72 million in one year in aid and grants to programs and research in the United States. Given the organization's overall impact on the cause, I don't have a problem if Executive Director Nancy Brinker makes $417,000 a year and flies first class.
Claim: The board at Susan G. Komen can give money to whichever programs and organizations it chooses.
My Thoughts: I agree with that. However, the reason why Komen discontinued its grant to Planned Parenthood wasn't supported by evidence. Specifically, Komen continued to fund programs that were under investigation, including the medical center at Pennsylvania State University.
Other actions and inactions by the organization also raised some red flags for me.
Why didn't Komen executives agree to sit down in person with Planned Parenthood executives and discuss the end of a long-time annual grant?
Why didn't Komen utilize its marketing, public relations and social media resources to control the story and messaging?
Why did Komen delete many of the comments it received on Facebook, rather than engaging in a two-way conversation?
Why did Komen claim that its decision wasn't politically motivated, and yet, its then Vice-President Tweeted differently?
Why didn't Komen reinstate its grant to Planned Parenthood, rather than just allowing the organization to apply for grants with the disclaimer that Komen wishes to fund clinics that offer mammograms?
Over the past year, my students and I have talked about Planned Parenthood's use of social media during the debt ceiling debate and Komen controversy. For Alex Lugovina's final project in our Sexuality and Social Media class, she chose the following topic:
What has been the impact of social media on the current climate surrounding contraception in the United States? More specifically, how has Planned Parenthood used social media to deliver its message and services, and how has this impacted the organization? I chose this topic because I think it is critically important for all women to have access to healthcare in general and especially access to contraception. Planned Parenthood was reluctant to enter the social media world because of client confidentiality issues. They were able to work around that, and the recent controversy between the Komen Foundation and Planned Parenthood will show the importance of social media to Planned Parenthood.
In a recent post about the history of contraception and the economics behind birth control, Alex wrote:
"The typical American woman, who wants two children, spends about five years pregnant, postpartum or trying to become pregnant, and three decades–more than three-quarters of her reproductive life–trying to avoid pregnancy (Guttmacher)." Wow, 30 years trying to avoid pregnancy!
Almost half of all pregnancies annually are unintended and 3 of 10 pregnancies will end in abortion. More than 36 million women of reproductive age are in need of contraceptives.
So how do women — 36 million women — find and pay for contraceptives?
71% of these women can only afford contraceptives through publicly funded programs because they have an income below 250% of the federal poverty level, and 29% are under the age of 20 (Guttmacher).
I look forward to seeing how Alex's project evolves and her examination of Planned Parenthood's use of new media. Follow her posts and Tweets.
Now that the dust has settled a bit, what are your thoughts on the Planned Parenthood and Komen controversy? Will either organization receive your donations or time?