I'm scared, and I'm doing it anyway.
That was my response, when my friend, Lauree Ostrofsky, asked me how I'm feeling about my upcoming surgery. I didn't hesitate to answer her with one of her trademarked catchphrases as a life coach and motivational speaker with Simply Leap. Lauree urges others to acknowledge their fears since that makes it easier for people to deal with them.
So, with that in mind, what am I scared of when it comes to my mastectomies on April 25th?
I'm scared of the pain. From mastectomies through reconstruction and physical therapy, this will be a minimum of a six-month process.
I'm scared of developing an infection or having a reaction. I've been told by many a doctor that my body is a medical mystery. I don't react to medicines and surgeries like the average patient. On a few occasions, that's meant that I've recouped faster than others. More often than not, though, I've experienced rare reactions and complications.
I'm scared of losing more friends. Yes, I've gained a lot of friends through my diagnosis and treatment, but I've also lost several old friends or seen friends' true colors. I accept that not everyone is good in a health crisis, but prior to chemotherapy, I never imagined that four old and loyal friends would be cruel or unsupportive.
I'm scared of this affecting my relationship. We're in a good place that's drama-free. This surgery is a significant occurrence, especially for a couple that hasn't dated for that long.
Most importantly, I'm scared that I will do this, and I will still develop cancer again. Mastectomies greatly reduce my risk of recurrence, but they don't eliminate them. There's still a 5% chance of getting cancer in my left breast, and a 12% chance in my right breast. As I've told my doctors, if I develop cancer again before I've adopted a child, I will not do chemotherapy again. (Yes, you read that correctly. I have fears, but death is not among them.)
For the next six weeks, I will work hard to face my fears and shower myself with reminders as to why I'm doing this:
My chances of recurrence are in the 30% range right now.
I wasn't able to tolerate the recommended hormonal therapy treatment.
I've had 13 biopsies in 12 years, and I don't want more.
The doctors believe my mom and I have a genetic marker for breast cancer that has yet to be discovered.
My other health conditions prohibit me from participating in vaccine studies.
This is the one thing left that I haven't tried. There are so many unknowns in life, but that is known.
My entire medical team agrees that this is the best course of action.
There is so much more I want to do with my life. I want to be as healthy as I can be.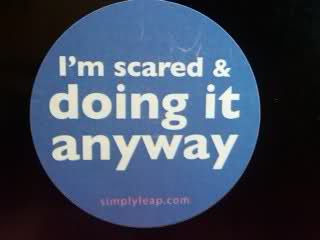 I'm scared, and I'm doing this anyway.
What are you scared of and doing anyway? What happens when you face your fears?