It's time for a book giveaway, and this is a sweet one!
Care to win a copy of the fictional novel, Doughnuts for Amy, by John Malik?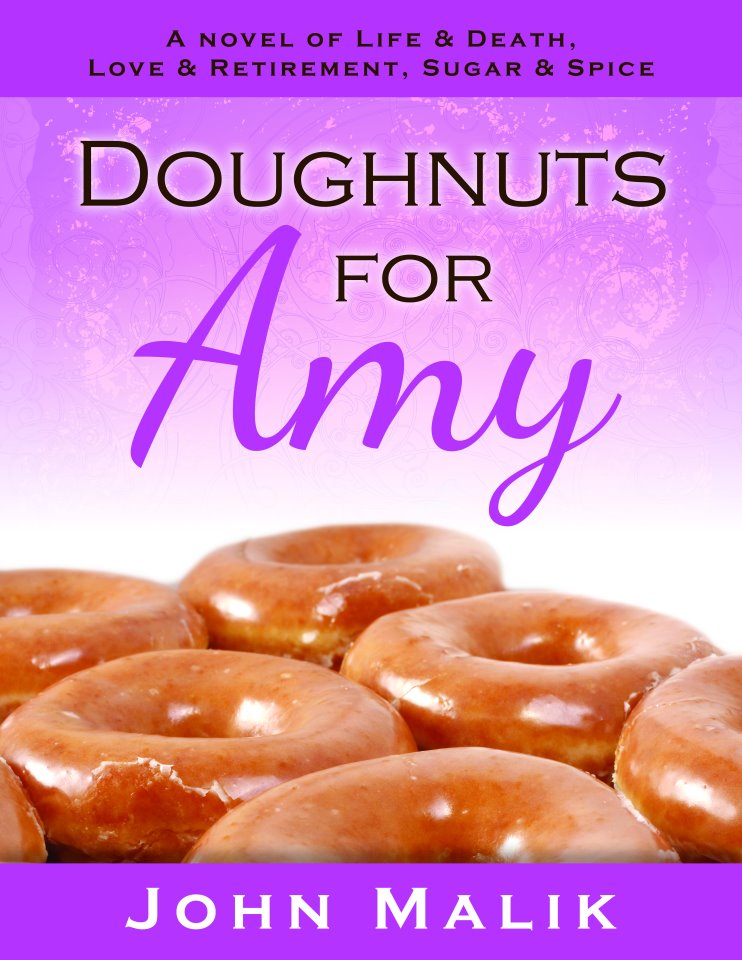 What's the book about?
Nick St. Germaine, Executive Chef at Woodmont, an upscale retirement community, is struggling emotionally as he approaches the second anniversary of the death of his wife, Robin. Plagued by nightmares and challenged by his son to move forward one day at a time, Nick is doing that, but just barely. He takes solace in early morning workouts at his gym, long runs and long hours in Woodmont's kitchen.
An unexpected change in management brings a new Director, Amy Sommers, a divorced nurse with little knowledge of the Food and Beverage business. Nick is quick to show his disdain for Amy, so much so that she comes close to showing him the door her first day on the job. Emotionally distraught, brooding and temperamental yet Amy also sees in Nick a great cook and effective manager. Soon Amy finds the gentle, compassionate side of him and her affection for Nick grows.
As Amy manages the many facets of Woodmont, she soon realizes her biggest challenge lies in the broken heart of Nick St. Germaine. She bides her time as Nick has a disastrous relationship with a beautiful physician and then offers her hand in support and comfort as Nick's memories of Robin threaten to cloud his ability to manage his team. To her surprise, Amy must also compete for his attention with a group of 80+ year-old widows. When Todd Stafford, son of a Woodmont resident, goes from being a troublemaker to a threat to Woodmont's security, Amy is afraid Nick may lose control at the worst possible moment.
With a supporting cast of quirky cooks, cranky widows and endearing octogenarians, Doughnuts for Amy is a six-course tasting menu of romance and comedy that will have you asking, "What's for dessert?"
About the Author:
Originally from New Orleans, author John Malik along with his wife Amy owned and operated 33 Liberty Restaurant in Greenville, SC from 2001 until 2008 and following that John was Executive Chef at two retirement communities in the Greenville area. John received a James Beard semi-finalist nomination for Best Chef in the Southeast in 2008. While 33 Liberty was open John's online essays on BBQ, peaches, kids, airplanes, dogs, root canals, dining with Sara Moulton and trading shots with Tony Bourdain were a highlight of the Southern food scene. John has made numerous Guest Chef appearances and has been featured in Bon Appetit, Chile Pepper, Southern Living, the Food Network and numerous newspapers and online media. John began writing stories for his Mom when he was in 5th grade. He has a Bachelor's degree in English from Southeastern Louisiana University. Doughnuts for Amy is his first novel.
Follow Doughnuts for Amy on Facebook and @chefjohnmalik on Twitter.
How can you win a copy of Doughnuts for Amy?
Just comment with your favorite type of doughnut below. One winner will be chosen randomly via Random.org on Friday, March 16th at 3:00pm EST. The winner will receive a paperback or e-copy of the book. Paperbacks can only be shipped within the continental United States. Good luck!
* Pursuant to FTC Guidelines, no compensation was received in exchange for this post or giveaway.