Have you heard of PAPAYA Toys before?
PAPAYA Toys develops unique products that will thrill you as well as inspire you to joyfully explore your sexuality. The company was founded in 2009 and is headquartered in Hong Kong with offices in the US. PAPAYA Toys' commitment to uncompromising quality, superior customer service, consumer education and social and environmental responsibility has quickly earned industry recognition and consumer praise worldwide. "Rediscover Passion" is not only its motto, but also its vision. PAPAYA Toys brings you innovation, individuality and excitement.
PAPAYA Toys offers products that are:
Body-Friendly (100% medical-Grade Silicone)
100% Waterproof — fully submersible
Flexible with soft touch buttons
Innovative with a convenient battery compartment
Multi-speed with varying vibrations
Easy to travel with
German designed and engineered for form, fun and function
Great for clitoral and vaginal stimulation. These toys can also be used externally on the anus, nipples, shaft or balls.
In 2010, PAPAYA Toys was honored at the 3rd Annual "O" Awards when AVN announced the winner of the Outstanding Innovation, was in fact, PAPAYA Toys' very own "Reversible Battery Pack." Check out the company's site to learn more, or connect with PAPAYA Toys US on Twitter or Facebook.
What's this giveaway about?
One very lucky reader will receive a Tattoo toy from PAPAYA Toys!
The Tattoo features a very distinctive bulbous head and a simple yet elegant shaft with a beautiful engraving on its sides. The product is 8.5 inches of pure pleasure. The vibrator for this toy is inside its head. It will send shivers throughout your body, enhancing and multiplying your pleasure, whether you use it clitorally or vaginally.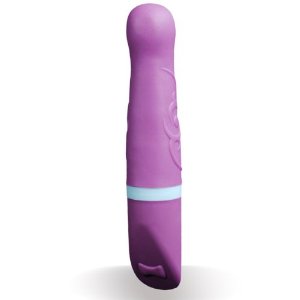 Unlike a lot of other toys on the market, Tattoo can join you in the shower or bath. Medical-grade silicone makes for a smooth feel. It is delightfully flexible and warms beautifully to the touch. It is nonporous making it easy to clean and to disinfect.
With the easy-to-use soft touch buttons, you can increase or decrease the vibration, as well as switch between three different pulsation programs.
PAPAYA Toys are battery powered. Unlike other toys that need to be recharged before using, you don't have to wait for Tattoo to pleasure you.
How can you enter to win a Tattoo toy?
Just write a comment on this blog, stating why you'd like to win a PAPAYA Toys' Tattoo! You must reside in the United States and be 18 years or older to be eligible. The winner will be chosen randomly via Random.org on Friday, March 23, 2012 at 11:59pm EST. Good luck!
* Pursuant to FTC Guidelines, no compensation was received in exchange for this post or giveaway.