What do you look for in a charity to support with your time or money?
In 2010 and 2011, I helped almost every charity that asked for my assistance as a volunteer, fundraiser or Host Committee member. I was proud of my efforts and the accomplishments of the organizations that I gladly served. In 2012, though, I've decided to be more discriminating with my time and donations.
What criteria do I evaluate in deciding which organizations to help?
What is the mission of the organization? Who benefits from that mission?
What events does the organization hold? Do ticket prices go to event expenses or the cause itself? How many free tickets are given out to Host Committee members and other special guests?
How are donations used?
Does the organization partner with similar organizations to make sure that efforts aren't duplicative?
Is the organization focused solely on awareness or is there an action or services component?
When I think of organizations that meet all of the above criteria, I think of St. Jude Children's Research Hospital. I served on the Host Committee for the St. Jude Fall Fashion Event in 2011, and I'm honored to be on the committee again this year.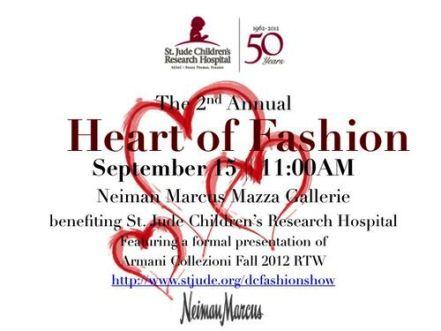 St. Jude is the first and only pediatric cancer center to be designated as a comprehensive cancer center by the National Cancer Institute. Children from all 50 states and from around the world have come through the doors of St. Jude for treatment, and thousands more have benefited from the research conducted at the hospital.
No family ever pays St. Jude for anything. Working together under one roof, the St. Jude physicians and scientists have pioneered treatments that have helped push the overall survival rates for childhood cancers from less than 20% when the hospital opened in 1962 to 80% today.
The Heart of Fashion event on Saturday, September 15, 2012 at 11:00am at Neiman Marcus Washington features the Armani Fall 2012 Collection straight from New York Fashion Week. Mimosas and brunch bites will be served.
Tickets are available for purchase here. You can take comfort in the fact that 100% of all ticket sales will go to St. Jude Children's Research Hospital. If you're in the DC area, I hope you'll join me at the event to support this very worthy cause.
What charities do you support and why?