"There's a reason why sleep deprivation is used as a torture mechanism," said a friend who was experiencing sleep deprivation after the birth of her child.
My friend's words have resonated with me of late. Prior to giving birth, my internist expressed his concern that caring for a newborn during the night would cause my autoimmune condition to worsen. Dr. Real Deal also indicated that she didn't believe I would carry to term and that I should prepare for a difficult delivery.
In May, I began to research options for overnight care and heard of Let Mommy Sleep at a DC event for expectant mothers. Let Mommy Sleep (LMS) is the only dedicated team of baby nurses serving DC, Northern Virginia and Maryland. Denise Stern founded the company, after realizing the difference that a night nanny made in her life with newborn twins and a toddler.  LMS provides:
Overnight care to newborns from 9pm-7am and education to the families one to two weeks after birth. Registered Nurses, LPNs and Postpartum Specialists assist with single babies, twins and triplets.
Denise and I discussed that I might require a Registered Nurse to assist with my daughter and me after I gave birth. I thought it was a great idea for LMS to offer a sleep registry. Newborns require very few tangible things after birth, but the moms who care for them need a lot – most especially, sleep!
When it appeared as though Roya would thankfully be born full term and that my daytime nanny would assist with occasional night care, I let Denise know that I didn't think I would be needing her services. We continued to stay in touch via Twitter, and I would smile when she would ReTweet something I wrote about Roya. I felt her support from one mom to another.
Roya was a fairly good sleeper as a newborn so I never imagined that I would need to reach out to LMS. That all changed when The Man, Roya, our dog and I were displaced from our home and sleeping in one room for four months. Roya started waking up an average of three times a night! And, we couldn't have any night care join us in the one room without being awkward at a minimum or inappropriate at a maximum.
We hoped that Roya would return to her good sleep patterns once we were able to move back home, but that wasn't the case between colds, vaccines and teething. After six months of being up three times a night almost every night, I was horribly sleep deprived. I would find myself crying or raising my voice at the littlest thing. I had to make an effort to focus on a conversation or email. And, I almost fell asleep behind the wheel on more than one occasion.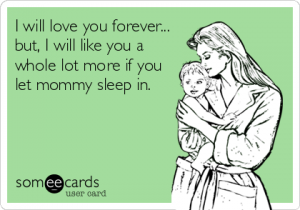 Something needed to change, and I thankfully remembered that Let Mommy Sleep also offers sleep consultations. I emailed Denise to find out more information.
Let Mommy Sleep provides Sleep Coaching services for babies four months or older whose pediatricians agree that it's appropriate for the babies to sleep longer stretches at night.
Parents are asked to fill out a Sleep Profile with questions about their baby's health, daily routine, and sleep and feeding schedule. After that, LMS' team of nurses and consultants sends out a custom in-depth, step-by-step written plan to get the baby on a developmentally appropriate schedule and sleeping through the night. The plan is supplemented with a one-hour phone consultation and two weeks of phone and email follow up.
"Sign me up!" I wrote Denise.
She sent me the Sleep Profile and also let me know that it's normal for 8-10 month olds to have trouble sleep through the night. And, right off the bat, she gave me a few suggestions for helping to wean Roya off of night feedings.
The questions in the Sleep Profile were comprehensive, but it only took me 30 minutes to complete them. After emailing the profile back to Let Mommy Sleep, I sent a text to several of my closest girlfriends that I was cautiously optimistic that a good night's sleep was in my future!
Did this mommy get some sleep? 
To be continued…
Disclaimer: Pursuant to FTC Guidelines, I, Stef Woods of CityGirlBlogs.com, received sleep coaching from Let Mommy Sleep in exchange for my honest assessment of LMS' services. No monetary compensation was received for this or any other post.