Capital Breast Care Center (CBCC) provides culturally appropriate breast cancer screening services and promotes health and wellness to women in the Washington, DC area, regardless of their ability to pay. Their services include clinical breast exams, mammograms, ultrasound-guided biopsies, Pap smears, and pelvic exams. CBCC performs mammograms on 2,000 DC area women annually. 100% of all private donations made to Capital Breast Care Center goes to the provision of services to women in need.
If you live in the DC area and have health insurance, you can make an appointment at CBCC for your annual clinical breast exam or mammogram. Your insurance company will be billed the customary fees for the service that you receive, and those dollars will help defer the cost of the same services to a woman without insurance. More information about the Gift of Life program is available here.
On a related tangent, over the past year, I've become far more selective about which products I purchase to support breast cancer organizations. Media and nonprofits have drawn attention to the downside of pinkwashing. Breast Cancer Action recommends asking the following questions before buying a pink product:
1. Does any money from this purchase go to support breast cancer programs? How much?
2. What organization will get the money? What will they do with the funds, and how do these programs turn the tide of the breast cancer epidemic?
3. Is there a "cap" on the amount the company will donate? Has this maximum already been met?
4. Does this purchase put you or someone you love at risk for exposure to toxins linked to breast cancer? What is the company doing to ensure that its products are not contributing to the breast cancer epidemic?
With those guidelines in mind, I purchased two of CBCC's signature silk scarves for me and a lucky reader. Designed by Ibahna Creations, these scarves add sparkle to any wardrobe! Scarves are $45 (plus $2.00 shipping and handling) and can be purchased here. $25 of the purchase price goes to fund Capital Breast Care Center's services, such as screening mammograms and patient navigation.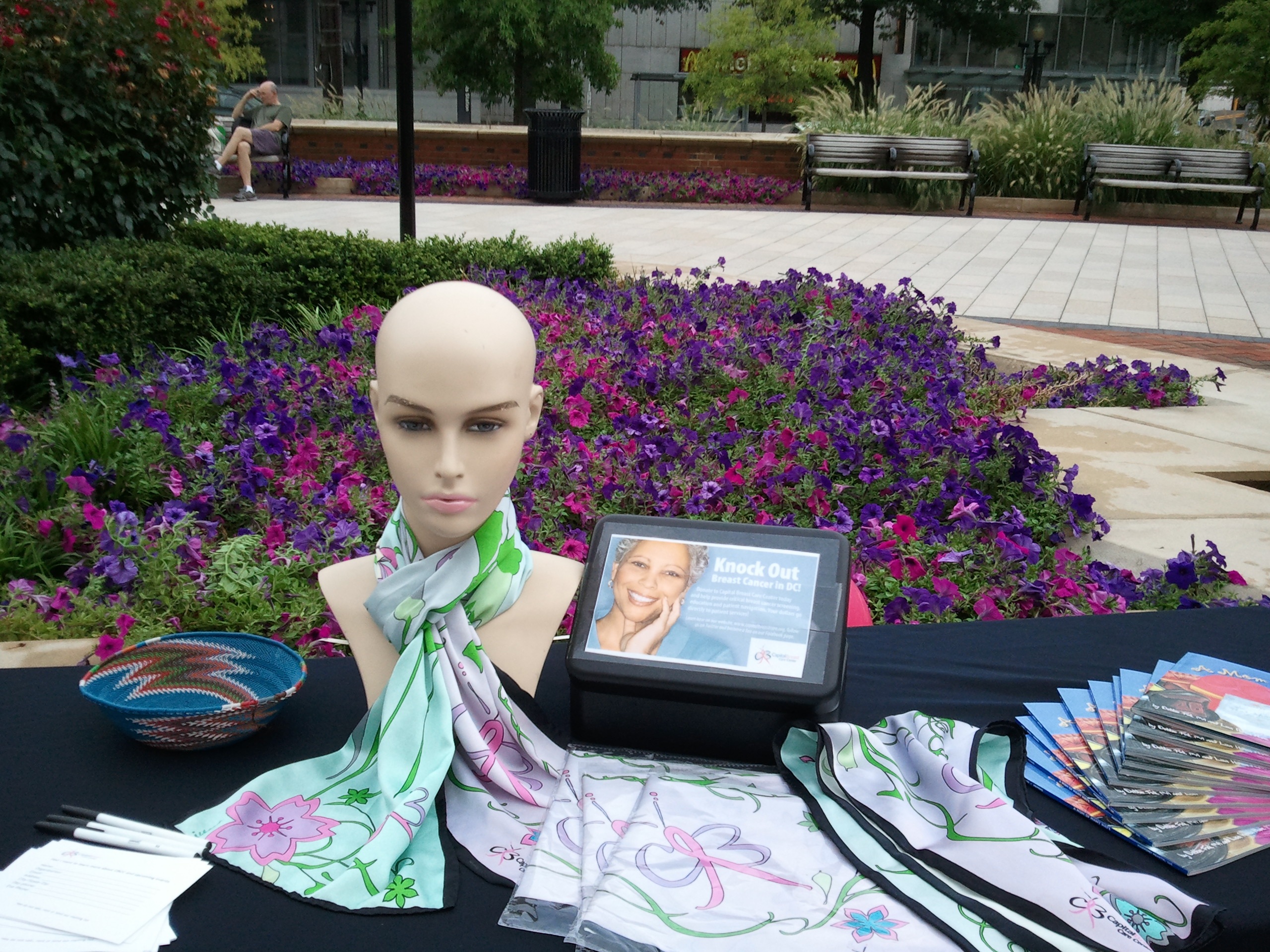 Would you like to win a CBCC signature silk scarf?
If so, comment with "Keep up the great work, CBCC!" by Friday, September 21, 2012, to enter. One winner will be chosen randomly via Random.org. The winner must reside in the United States or Canada.