Enjoy it heated.
Admire the beautiful presentation.
Try it chilled.
Think of how long it took someone to make it.
Smile, knowing that you're putting only healthy ingredients in your body.
And, when you're done, place it in the dishwasher.
For a minute there, you might be wondering if you clicked on a food blog. But, fear not, dear readers. You're in the right place.
I'm talking about a glass sex toy.
Pipedream's Icicles No. 18 from Fascinations at Fun Love is a hand-blown massager made of durable and safe Pyrex glass. Hand-crafted glass products are free of phthalates, nonporous and hypoallergenic. Quality glass toys are tempered when they are made, and that process ensures that the glass is silky smooth and four to five times stronger than regular glass. (Translation: This product was crafted so that it won't break if you drop it on a hard floor, but don't start throwing it off of your balcony to test its durability.)
Glass toys like the Icicles No. 18 respond to temperature changes.
"What does that mean?" you might be wondering.
Well, you can use this toy heated or chilled by:
1. Running hot or cold water over it;
2. Heating it up in the microwave. (Since all microwaves and bodies are different, start with ten or fifteen seconds and test the result on your stomach. Continue heating the product up gradually to your desire temperature);
3. Placing the toy in the freezer before use. (Again, start with five or ten-minute intervals so the product isn't too cold for your liking); and
4. Keeping a bowl of ice cubes, or hot or cold water on your night stand.
Glass vibrators also warm to your body temperature so as you get hotter with each stroke, the toy will get warmer, too. When you're done enjoying the Icicles No. 18, you can clean it with toy cleaner and warm water, or place it in the dishwasher. When cared for properly, a glass toy is designed to last a lifetime.
Hand-blown glass is a great choice for those of you seeking a durable and body friendly sex toy. The Icicles line of toys is reasonably priced from $32-$70 with the Icicles No, 18 priced at $56.99. What in particular will win you over about the Icicles No. 18?
1. It's beautiful. Most vibrators don't win on aesthetics. The Icicles No. 18 looks like it belongs in a curio cabinet, not a toy drawer;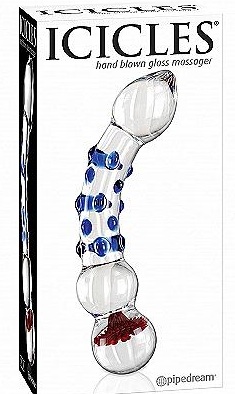 2. It can be used by men or women, as it was designed for g-spot, clitoral and anal stimulation. The size of the tip and the blue glass details around the shaft were not just placed there arbitrarily. The top of the toy hits the g-spot or prostate just so, while the blue nubs rest on your clitoris or anus;
3. It's great for new and old toy users alike! The length and width provide a fulfilling experience without being overwhelming to novice toy users and couples. If you're a first-timer, make sure you remember to use a lot of lubricant before inserting the toy; and
4. For those of you who typically prefer vibrators over dildos, this toy will provide you with ample entertainment without any batteries required! The lack of vibrations is also an added benefit for those women who get desensitized by regular use of vibrators.
I'll give the Icicles No. 18 a strong Four Squeals of Approval. If you like glass toys, you'll really love this one! And, if you haven't tried one yet, what are you waiting for?
* Pursuant to FTC Guidelines, I received the Icicles No. 18 free of charge in exchange for my honest assessment of the product.