A year ago this week, I found a lump in my right breast, as I was trying on clothes for the Fashion For Paws runway show to benefit the Washington Humane Society. That same weekend, I noticed that my very shy rescue dog, Flake, began sleeping as close as she could to my right side. A year ago this week, I also decided to hold off on submitting the initial paperwork to start the adoption process because I had a feeling.
My intuition and my dog's sense of smell turned out to be correct, and I was diagnosed with breast cancer on June 22, 2010. (I later read articles about medical studies regarding dogs' ability to sense the presence of breast cancer with 88% accuracy.)
Since finishing chemotherapy and radiation a month ago, I've been fielding a lot of comments like:
Wow! Your hair is growing! You must be feeling better!
You're done with treatment! So, everything's good now, right?
Unfortunately, though, being cancer-free hasn't felt freeing. Yes, I'm done with treatment, but I'm still not feeling well. The low blood counts, muscle weakness, exhaustion, and forgetfulness continue. I dyed my buzz cut back to red in the hopes that I would feel more like myself, but that didn't do the trick. I want my long hair back, and I want my body to look like it did before all the steroids. I realize that everything is a process, but patience has never been one of my virtues.
Something happened over this weekend, though, at this year's Fashion For Paws. I was finally able to let go of the bitterness and sadness that I'd been feeling over the fact that I haven't rebounded as quickly as I – or the doctors – would have liked.
I let it all go with the toss of a wig.
"The toss of a wig? What does that mean?" you might be wondering.
Well, when I found out that I would be wearing a Betsey Johnson outfit for the fashion show, I had an idea. I suggested to Jane, the manager of the Betsey Johnson store in Tysons Galleria, that I wear a wig down the runway and toss it into the crowd.
Me: That's probably too crazy for Fashion For Paws, though.
Jane: I love it! It's like Betsey's last show. Do you have a minute to watch a video?
I nodded my head, while Jane switched the DVD on the television screen in the store. The finale of Betsey Johnson's Fall 2011 show in New York City featured Betsey's store managers walking with Betsey-inspired makeup and blond wigs. The last manager fiercely took his wig off, roared and tossed it into the crowd.
Jane pitched the idea to the team from Fashion For Paws Executive Director and The Aba Agency, and I was told that I should go for it! The wig toss turned into the "Wig Finish," when I learned that I would be closing the show. My excitement grew, as did my nerves, at the thought of pulling this all off in front on a crowd of 1,800 people.
Adrenaline kicked in, and I was instructed to take my wig off in an exaggerated way.
Lolly from Betsey Johnson Georgetown: It needs to be really, really big! Don't just pull your wig off. Tear it off! Rip it off your head.
Me: Okay. Should I roar like the manager in the show in New York did?
Lolly: Yes! And make it exaggerated so that everyone knows what you're doing.
So, I went for it. I really went for it.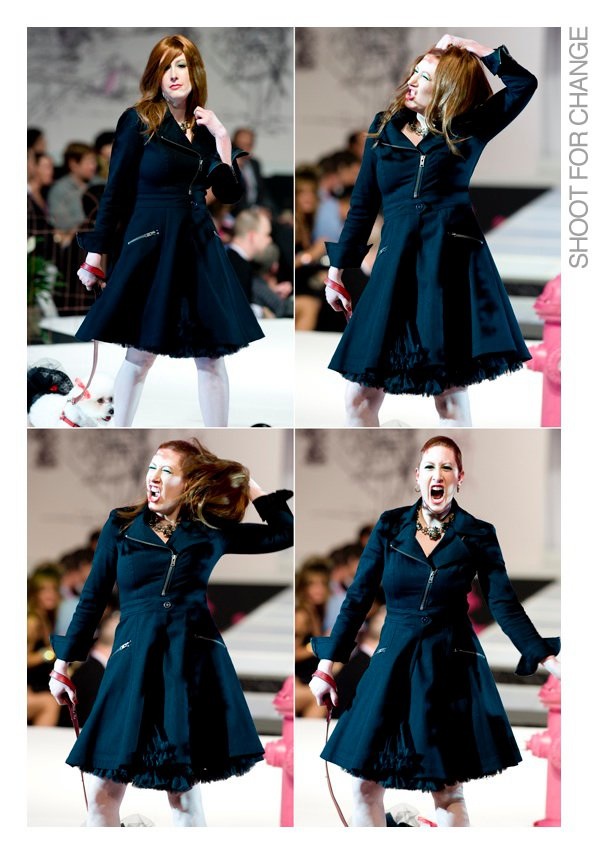 And, when I tossed that wig into the crowd, I tossed with it all of the negative emotions that I've been struggling to process for the last month. Over the past year, cancer has won more than its share of battles against me. Through one toss, I was able to remind myself that I have won the war!
Take that, Sergeant Aggressive Strain! I'm getting IVs every three weeks to make sure you don't come back.
Take that, Colonel Cancerous Tumor! I do self-exams so I found you!
Take that, Admiral Abnormal Calcifications! I get annual mammograms so my radiologist saw you sneaking in.
Oh, and Captain 15% Chance of a Stage Four Recurrence, I'll bet against your victory any day! You are not coming back here anymore! I'm taking hormones every day for the next five years to ensure that!
My body may not be up for celebrating yet, but my mind finally is.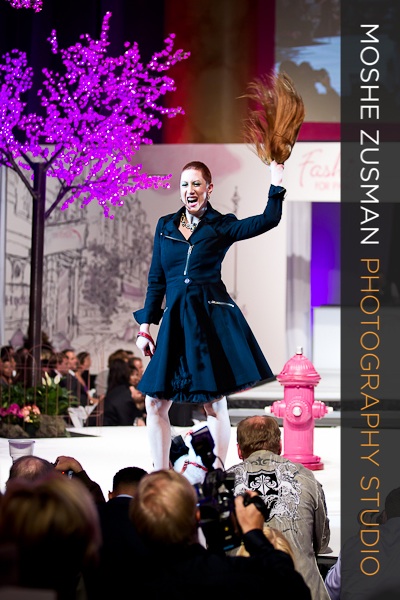 That that!