Once Roya started to feel better in early February, I decided to enroll her in a Gymboree class. At eight months, she had yet to actually play or interact with other babies her age. I thought that she would like Gymboree, but didn't expect her to love it so much! The teachers at the NW DC location are wonderful, and the infants are so cute as they laugh and play together! (I guess I was surprised at how much I enjoy it, too!)
We also picked up a play zone and foam tiles for Roya from Target. The play zone contains enough to stimulate Roya, but it's not overwhelmingly loud or bright. (That's a win for her and a win for me!)
With respect to the puzzle foam mats that are the norm for families with infants, I learned after purchasing the tiles that they have been banned in Europe for containing a toxic chemical. (Is there anything else other than thick carpeting that can be used in lieu of these mats? Please comment if you've found something that works for infants!)
Check out Roya's moves in the play zone:
The cold and snowy weather impeded us from heading to the playground, but we managed to make it to weekly story time and music time at the library. I had to laugh out loud that Roya was the only one in the infant/toddler class to know what to do with a drum before the teacher showed the group.
We continued to try to introduce Roya to solid foods. She still wasn't a fan, although her expressions in the high chair are priceless.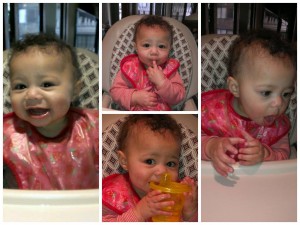 Can you blame me for being so in love with my little, funny Valentine?