How familiar are you with prostate massage?
For those of you who are men or involved with male partners, stimulation of the male prostate gland internally through the rectum or externally on the perineum can provide much pleasure. (If you need a refresher course in male anatomy, this image should clarify where those parts are located.)
If you're intrigued, check out the definitive guide to P-spot pleasure! Or, read on to find out how you can enter to win a copy!
The "discovery" of the G-spot opened up an era of sexual expansion for millions of women, and now it's time for the P-spot to claim center stage in the realm of male sexuality. The Ultimate Guide to Prostate Pleasure: Erotic Exploration for Men and Their Partners empowers men who may not feel confident exploring anal play to claim the prostate as an erogenous zone ripe for exploration. Men who already enjoy prostate play will find much to learn from sex educators Charlie Glickman, Ph.D., and Aislinn Emirzian, whose wisdom and warmth will be both reassuring and inspirational to readers. This manual supports all men who want to explore this powerful source of sexual fulfillment.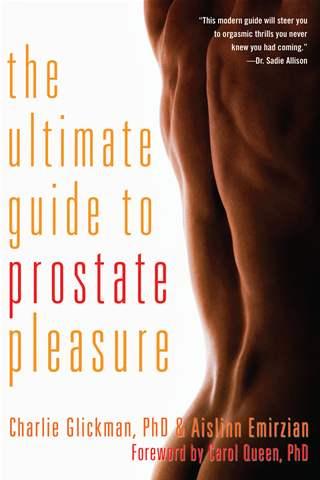 Some things you will find in The Ultimate Guide to Prostate Pleasure:
· Inclusion of all sexual experiences and lifestyles
· How to maintain prostate health
· Tips and techniques about communication, massage, toys, positions, etc.
"A great addition to a largely underground history that is finally coming into the light. Everyone deserves the sex information that will make their desires consensually possible, safe, and full of pleasure."
—from the Foreword by Dr. Carol Queen, Staff Sexologist and Historian at Good Vibrations
About the Authors:
Charlie Glickman Ph.D. is a sexuality educator, writer, blogger, workshop teacher, and university professor. He is certified as a sexuality educator by the American Association of Sexuality Educators, Counselors, and Therapists and was a pioneering Program Educator for Good Vibrations for sixteen years. He lives in Oakland, CA.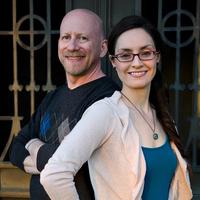 Aislinn Emirzian became a sex educator as a student at Smith College, and later worked with sex positive adult toy stores like Oh My Sensuality Shop in Massachusetts and Good Vibrations in California. Over the years, she has taught workshops on a wide range of topics, but prostate pleasure is her favorite! Check out her website here.
How can you enter to win a copy of The Ultimate Guide to Prostate Pleasure?
Include the phrase, "P-spot," in your comment below for a chance to win a hard or electronic copy of the book. A hard copy can only be shipped within the continental United States. Please only comment once per person. This giveaway will run through Monday, June 17, 2013, at 11:59pm. The winner will be chosen randomly via Random.org. Pursuant to FTC Guidelines, no financial or in kind compensation has been received in exchange for running this post and conducting this giveaway.
Good luck!