When it comes to adult toys for couples, cock rings offer versatility and pleasure. The ring tightens around the man's shaft to allow for a prolonged erection and more intense orgasm. Accoutrements and vibrations on the ring provide mild to moderate clitoral, vaginal, scrotal or anal stimulation.
For those who haven't tried cock rings before, there are nice products on the market designed for one-time use. You can enjoy 20 minutes of vibrations for around $12, which may be a wise option if you're engaging in sex with multiple partners.
What if $12 for 20 minutes of vibrations doesn't cut it, though? What if you're looking for a cock ring to be a permanent fixture in your boudoir?
Enter the Lelo Tor II or the Crème de la Crème of Cock Rings!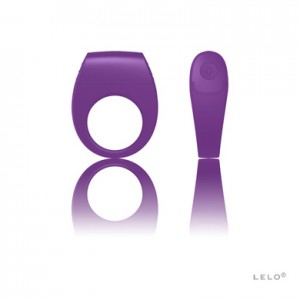 Noteworthy features of the Tor II:
Waterproof for fun in the shower, bath or Jacuzzi.
Discreet. This toy is unassuming so it's perfect for travel.
Rechargeable. A two-hour charge will provide you with a two-hour charge.
Multiple speeds that provide mild to moderate vibrations. It's an added bonus that the vibrations are very quiet.
Body-friendly silicone. This is a Lelo product so you don't have to worry about the use of any potentially-toxic materials.
Highly recommended for heterosexual couples. Approximately 1/4 of women can orgasm from vaginal intercourse alone. The rest require clitoral stimulation and/or the use of a toy. The clit has thousands of nerve endings so the vibrations of the Tor II will be a welcome addition to a female's bedroom routine.
Just how enjoyable is the Tor II? A transcript of a recent evening with this product would read as follows:
Oh My God!
Ooh My God!!
Oooh My God!!!
Oooohh My God!!!!
This toy also might have played a pivotal role in me waking his neighbor up in the middle of the night. Allegedly.
At $119, the Tor II is a pricier product, but it will get the job done for years to come. Lelo even offers a 12-month warranty on the toy. To protect your investment, make sure you use water-based lubricant with the Tor II. (That will prevent the silicone from becoming tacky and a man from getting chaffed.)
A few minor criticisms about the Tor II:
Lelo claims that there are six powerful modes to this toy, but I only noticed four.
The streamlined design of the ring is aesthetically pleasing, but it can take a minute to turn the product on and off. That can be a bit uncomfortable for the man after he reaches orgasm.
If a man is very wide, the Tor II will likely be too constricting for him. The goal here is for the ring to be tight without being painful.
The significant pros to this toy far outweigh the small negatives, though. The Lelo Tor II is that rare couple's product that will never be in a drawer collecting dust. I thus give the Tor II a solid Four Squeals of Approval. (If I gave half squeals, I would do so here.) Those who get this toy won't regret it.
* Pursuant to FTC Guidelines, I received the Lelo Tor II from the manufacturer without compensation in exchange for my honest review of the product therein.