Do you know what it means to "Trash Cancer?"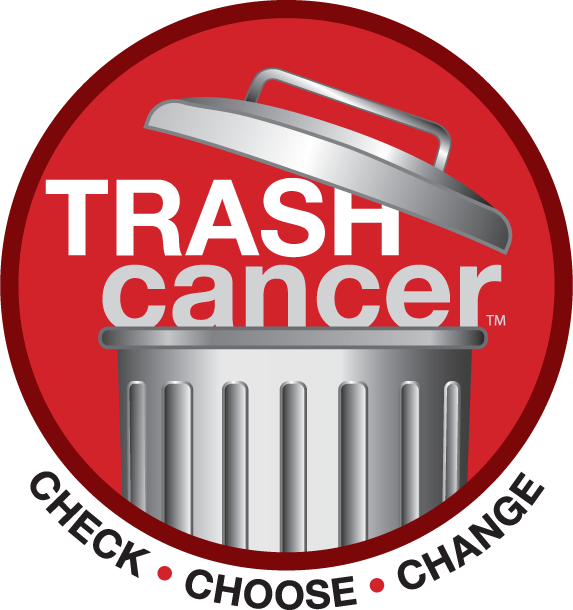 Trash Cancer is a movement started by Fran Drescher, cancer survivor and founder of the nonprofit, Cancer Schmancer. On September 29, 2012, 10,000 people across the United States gathered to learn about toxic chemicals in our homes, food and personal care products. I was honored to host a Trash Cancer Party at Peacock Café in Washington, DC, and am still shocked at some of the sobering statistics and facts.
In the US, 1 in 3 women and 1 in 2 men will be diagnosed with cancer in their lifetimes.
90% of cancers are environmental and lifestyle related.
There's aluminum in many toothpastes, astringents and anti-perspirants.
Eating one extra sausage or three slices of bacon a day increases a person's risk of pancreatic cancer by 19%.
Most lipsticks contain lead.
Consuming hot dogs put children at nine times the risk for childhood leukemia.
The US hasn't banned the use of PVCs (containing chemical phthalates) in soft vinyl children's toys, PFCs in non-stick cookware, and formaldehyde in baby shampoo.
"Wrinkle-free" products typically contain cancer-causing chemicals.
We can become better consumers, though, and choose products that don't contain too many of the 80,000 chemicals that are potentially toxic and unregulated or underregulated by the federal government.
You can check out how your products rank on a 0-10 scale (with 10 being the best) on the Trash Cancer site. You'll be surprised at what you discover! For instance,
I had switched to using natural fragrances, based on advice from many breast cancer organizations. In reality, the natural fragrances by Pacifica score the same as my preferred Hanae Mori perfume.
The OPI and Essie polishes that I love? An overwhelming majority of nail polishes contain numerous toxic chemicals and rate a '1' on the Good Guide scale. (If anyone finds a good nail polish that gets a high ranking, please let me know!)
I expected brands like Burt's Bees, Bliss or Lavanilla to score high across the board. Some products in their lines did. Some didn't.
It might seem overwhelming to change many products at once. Cancer Schmancer recommends that we make one or two small steps toward change. After I was diagnosed with cancer and researched how many bath products contain parabens and phthalates, I began using soap, lotion and shower gels that are paraben and phthalate-free. (The skin is our largest organ, after all.) Now, I'll tackle fragrance and at least some of my lipsticks.
Will you join me in becoming aware of what you're putting in, on or around you?
CHECK the labels on the products you use (especially the first three ingredients) and visit TrashCancer.org to research your products.
CHOOSE options for change.
CHANGE by taking a small step toward a healthier lifestyle.