For the majority of my life, I never shared my bra size with other people. I loved my tits, but I went out of my way not to flaunt them in public. I wore minimizers so my boobs would look 1-1 ½" smaller than they were. I chose certain tops that were boob-friendly so that they weren't on display. I loved my big tatas, but I held that enjoyment close to my chest (pun intended, of course).
Since I was diagnosed with breast cancer, though, I feel as though my boobs are part of the public domain. I've shared my story and bra size with mere acquaintances, and my comfort talking about what I'm going through motivated me to write this post.
When I met with the reconstructive surgeon before my double mastectomy, I told the doctor that I wanted to be a DD. I had been a 34 F/G for the past 15 years, and I had a dream of going into Victoria's Secret and buying a bra that didn't cost $60.
Each week as I would get expanded at the doctor's office, she kept asking me if I wanted to go bigger. I just kept saying, "Make me a DD."
What I didn't realize at that time, though, was that one size of expanders or implants doesn't fit all. Think about it. Every woman is unique in terms of height, weight, torso length, back width and build. On a woman that's 5'2", a G cup would look disproportionate. On me, at 5'9", it doesn't. Likewise, a woman who is larger in build could have the weight of my breasts and be a smaller cup size.
My real breasts were 600 CCs, and at my last expansion, my surgeon expanded me to 500 CCs. Afterward, she saw me dressed and commented, "That size looks right. Now, I notice your breasts first."
I went home after that expansion and tried on some of my old bras. The majority of my G cup bras and all of my F cup bras fit.
A part of me felt like my dream of buying a mass-produced bra or swimsuit was snatched away from me. What does a City Girl have to do to be a DD?
Those who have seen me since that last expansion have commented that I look like my old self. My expanders are big, but not out of proportion with my body, much like my big naturals.
Three weeks from today, my expanders will be replaced with my permanent implants. (And, no, this isn't the same as a boob job surgery since I have no breast muscle or tissue and weaker skin. In addition, the implants are inserted via my old incisions across the middle of my breasts, not via some tiny incision by the armpit.)
My surgeon wants to go into the Operating Room with three options of 450 CCs, 500 CCs, and 550 CCs. There's a chance that I could come out of surgery wearing all my old bras!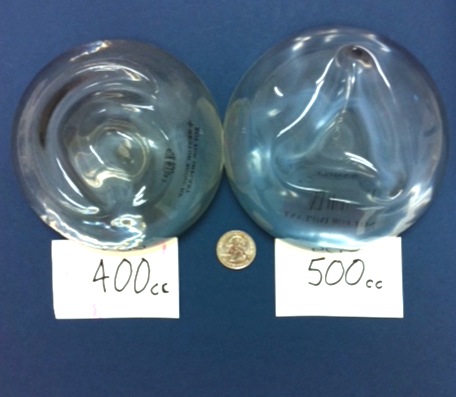 I posted on Facebook that there's a fine line between "nice rack" and "when do you perform?" The majority of responses indicated that when in doubt, it's best to go bigger. Women who've had reconstruction or implants noted that silicone is less voluminous than the expanders. And, other friends thought I should trust the doctor since she is an award-winning perfectionist.
I realize that I need to make my own decision about my implant size. But, I feel as though you all have come on this journey with me and would love your input.
Do I put my foot down and tell the doctor that I don't want to be as big as I am now, or do I trust that she is the expert? Comments encouraged!