It's Friday! Time for a giveaway!
Valentine's Day will be here in less than a month. If ever there were a time for men to learn more about what women want, this is it! Make Valentine's Day a day neither of you will ever forget with this reveal of what women actually want – yes, even the secrets women usually won't give up.
Synopsis
#1: We don't want to hold his underwear.
Inspired by her years of experience as a straightforward woman with predominantly male friends, Sylvia D. Lucas' What Every Woman Wishes Modern Men Knew About Women – whose message at its core is "We actually very much love men" – is a girl talking to a guy from her bar stool to his. No trickery, no cunning, no game playing – this is the dirt on women men wish they'd known for years (or that they'd always suspected was true – and now it's confirmed!).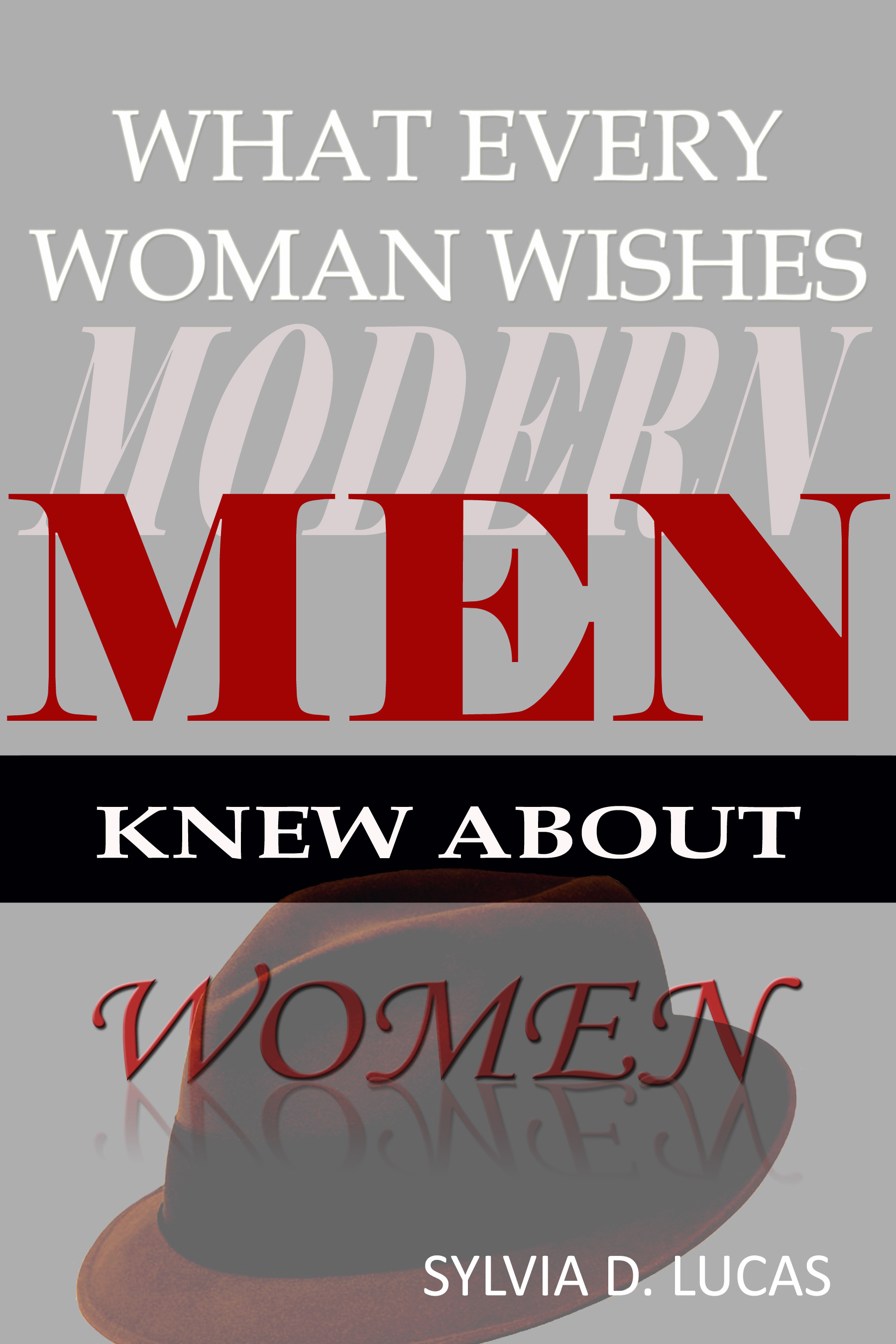 Here's what men think they know:
They know the experts say men should do domestic things to turn a woman on. But why? Why do women like it? It's not for the break they get from doing it themselves.
Women like roses…(Wait. Or do they?)
Women like jewelry, ANY jewelry, as long as it sparkles. And as long as it's from him, she'll love it. (Wrong. So wrong.)
Women sometimes issue marriage ultimatums, and men would be wise to respect them. 1. What's behind that ultimatum, and is it really an ultimatum? 2. It's fine for a man to respect it (once he knows what it is), but caving to it? Stop!
Sometimes men wonder why they have no idea what a woman is thinking, why she acts like she's not interested but keeps saying "yes" when he asks her out. What the hell?
Humorous, conversational, and brutally frank, What Every Woman Wishes Modern Men Knew About Women addresses all of the above (and more) from a refreshingly honest and modern perspective.
Said one married (female) beta reader who is incredibly private and would rather remain anonymous, "This book seems like it's MORE than just 'what every man should know about women'….it's more about the modern-day woman, the independent, 'we don't need you for things, we need you for companionship and we want you to understand we are just like you' woman. It started some good conversations between me and my husband because he sometimes has a hard time figuring out what type I am. This helped me to explain to him what I want, need, or expect as a woman."
Reviews
"It is my opinion that this is perhaps one of the best books on this particular topic I have read. And I have read my fair share of relationship books. But unlike previous books I've read, which I found to be rather limiting in their messages, I found What Every Woman Wishes… to be more down to earth and realistic in its presentation. Sylvia D. Lucas is witty, clever, intelligent and logical as she makes many good points on topics ranging from marriage to myths surrounding gifts. This is a book I would highly recommend to all men – married, dating and single. It is that good (and important of a topic). I give it 5 out of 5 stars. Also, as a [recovering] germaphobe, the underwear story really freaked me out." – Joe Glasgow
"I read it in one sitting, straight through. Loved it! Talked my boyfriend's ear off about it for half a day so that he just smiled and nodded after a while. After reading WEWWMDNAW, I felt like I had just hung out with a girlfriend and shared our views on relationships between men and women. Quick, light read that delivers a valuable message." – Amazon.com review (4/5 stars)
About the Author
Sylvia D. Lucas is a former journalist and an award-winning writer with a passion for stomping stereotypes, promoting empathy, and wading through the BS to get to the truth.
Giveaway Rules
One lucky winner will receive a hard copy or e-version of What Every Woman Wishes Modern Men Knew About Women. Hard copies cannot be shipped outside of the US. The giveaway will run until noon EST on Friday, February 3, 2012. To enter, just comment with what you wish the modern man knew, what you're glad your modern man knows, or what you as a modern man know or want to know.
Good luck!
* Pursuant to FTC Guidelines, this post was provided by the author without compensation to City Girl Blogs in exchange for the issuance of one book to a winner chosen randomly.