A Sex Toy Haiku:
Three balls. Two motors. Magic.
In this Fun Factory toy
The YOOO. Nirvana?
I've written about my love of Fun Factory before. The company is internationally renowned for its quality products, innovative design and commitment to using only body-friendly materials.
The YOOO (pronounced like "You") is a recent addition to Fun Factory's collection of sex toys that win on form and function. Each "O" in the product's name stands for one of the three O-shaped balls or bubbles.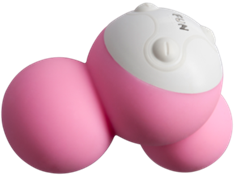 Although this toy resembles Micky Mouse's ears or a video game joystick, the YOOO was made with 100% medical-grade silicone and was clearly designed for discriminating adult consumers.
The dual motors allow the toy to be stronger than most products of a comparable size and provide a variety of pleasure sensations. The toy is easy to charge and operate. When you get your YOOO, charge it as soon as you can since for its initial charge, it's recommended that you connect it for 12 hours. (I don't know why that is, but I just view it like when I get a new cell phone. One overnight charge = good to go!)
The product comes with a Fun Magnetic Plug that allows you to charge it with just a click of the magnets. (Match the words, "Fun Factory," on the magnetic plug with the same words on the top of the YOOO and you're all set.)
Once the toy has been charged, press the "+" sign firmly to turn the YOOO on and continue to press that button to increase the toy's vibrations. If you'd like an added surge of intensity, hold the "*" button down firmly, and you will feel the effects of the power boost. If you'd like to decrease the vibrations, press the "-" button and hold that button down for a second or two firmly to turn off the YOOO.
Three balls and two motors might make you think that this toy is for dual stimulation. It is, but the stimulation is external, rather than internal.
"What does that mean?" you might be wondering.
Well, a female can use this toy on her clit and the lips of her pussy, or her pussy lips and the exterior of her ass. A man can use the toy on his perineum (the sensitive spot between the base of his cock below his balls and above his ass) and the exterior of his ass. A guy can also put his shaft between the two balls to add vibrations to a hand job, blow job or masturbation.
This toy offers eight speeds of vibrations so I highly recommend it for toy newbies and toy aficionados. If you're a woman who achieves orgasms regularly from a wand and has become desensitized to clitoral orgasms from other means, I advise taking a break from your wand for several days to maximize your enjoyment from the YOOO. Wands have stronger vibrations, but the YOOO's two motors with the turbo boost allow for a distinctly different experience that's worth the ride!
Since this product looks like a children's toy, it's perfect for those of you with little ones at home. On the noise front, the YOOO's vibrations resemble a low-pitched hum, rather than a high-pitched squeal or loud jack-hammer. I thus regard the toy as relatively quiet. Even on its highest setting, your roommate, neighbor or family shouldn't hear you.
Given its versatility, the YOOO excels as a toy for couples. The product won't intimidate a straight man or someone who hasn't previously used toys in the bedroom. You can take it into the bath or shower with you since it's one of the few rechargeable toys that's waterproof. And, with its three balls and two motors, there are a lot of options when adding the toy into your oral, anal or vaginal sexual routine.
I give Fun Factory's YOOO Four Squeals of Approval as a solid toy for couples with or without children, toy newbies, people who enjoy water sports, people who live in close quarters, and women who prefer moderate external stimulation.
Try it. YOOO might like it!
The YOOO retails for $99.90.
Pursuant to FCC Guidelines, I received the YOOO from Fun Factory free of charge in exchange for my honest assessment of the product.