When the owners of Lotus Blooms handed me my next toy to review, I smiled like a kid in a candy store and exclaimed:
A phthalate-free Rabbit!
See, I had thrown out my old, jelly rubber Rabbit when I learned that it contained potentially harmful ingredients. And, I'm a fan of products like the Rabbit that stimulate more than one area. For those of you who aren't familiar with rabbit-shaped toys, they consist of:
A phallic vibrator with two or more rows of rotating pearl beads that will hit your G-Spot just so; and
A separate tickler attached to the shaft with soft bunny ears to pleasure your clit.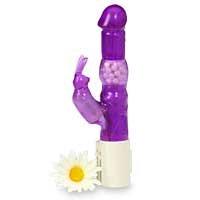 There are many Rabbits out there, but Vibratex's version of the Rabbit, known as the Rabbit Habit, is regarded as the gold standard. For more than 20 years, Vibratex has manufactured high-quality, body-friendly toys. Since the majority of women can only orgasm clitorally, the company's products are designed to do just that, while also allowing for additional G-Spot stimulation.
The Rabbit Habit is made of smooth, safe elastomer. The toy contains no phthalates or latex and can be used with either silicone or water-based lubricant. The shaft portion of the product is 5" by 1.5", which is substantial without being overwhelming. Although the toy only takes 3 AA batteries, it still packs quite a powerful punch! For those of you Sex and the City fans, it was Vibratex's Rabbit Habit that was featured in the show.
When I try out a product like the Rabbit Habit that has separate controls for clitoral and G-Spot stimulation, I test out all the options: clitorally; G-Spot; and dual stimulation. I started first with the clitoral section or the little bunny ears. I liked how easy it was to control the toy with a simple flick of the finger up or down.
When I turned the Rabbit Habit on, I expected to lay back, relax and enjoy the ride. But, that unfortunately didn't happen. All I could focus on was how loud the toy was.
How loud was it? The product was so loud that I was worried that the noise would wake my neighbors up. I had this vision of my building's security guard knocking on my door, asking if I had a contractor in my unit after hours. Yes, the Rabbit Habit is that loud!
Once I was able to collect myself and overlook the noise, I could focus on the benefits of the toy itself. The bunny ears are definitely geared for clitoral pleasure, and the pearls inside the shaft are perfect for G-Spot stimulation. This Rabbit Habit also allows you the freedom to get off just one way or both by just sliding one of the two controls on the battery pack. And, at $90, the Rabbit Habit is moderately priced for a high-quality, dual-action toy.
I'm torn between Two and Three Squeals of Approval for this toy. The Rabbit Habit gets Three Squeals because it's a high-quality, body-friendly toy that will provide you with clitoral and G-Spot pleasure. But, the noise definitely brought my level of enjoyment down a notch.
Oprah Magazine called the Rabbit Habit: The Rolls Royce of Sex Toys, but I have to disagree with that assessment. If you want the Rolls Royce of toys, I recommend spending a little more for the Lelo Elise. The Rabbit Habit is a habit that I could personally do without. xoxo
*Pursuant to FTC Guidelines, I received the Rabbit Habit free of charge in exchange for my honest assessment of the product.