Are you familiar with Ben Wa balls?
These small, weighted balls can be inserted into the vagina to:
Tighten the pelvic muscle;
Strengthen the bladder;
Help a woman achieve a vaginal (G-spot) orgasm;
Heighten orgasm; and/or
Increase pleasure during clitoral or anal play.
A reader recently inquired why she didn't notice a difference after inserting the balls inside herself for the entire day. View these kegel exercizers much like you would a trip to the gym to work on a specific muscle group. You don't want to overwork your muscles, and a little bit each day will yield more sustainable results. (It's doubtful that you'll notice a difference immediately either, even with extended use.) There's no need to set a timer when you insert the Ben Wa balls, but if you're trying to strengthen your pelvic muscles, keep the balls inside of you for 10-30 minutes a day.
Lovehoney.com recently introduced a pair of Ben Wa balls as part of its Official Fifty Shades of Grey Collection. This collection is the only one to be approved by the trilogy's author, EL James.
"This range is what I always imagined while I was writing Fifty Shades of Grey. I'm so excited that the toys I described in the books have come to life and can now be enjoyed around the world." ~EL James
Thanks to Lovehoney.com, one lucky reader will win a pair of Fifty Shades of Grey Delicious Pleasure Silicone Ben Wa Balls!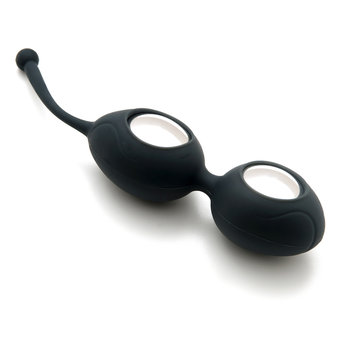 Relive Ana's pleasure and experience excellent pelvic toning with the official Fifty Shades of Grey silicone pleasure balls. Wear them as you go about your everyday tasks or as an accessory to foreplay for a build up to a breathtaking climax.
"I am going to put these inside you, and then I'm going to spank you, not for punishment, but for your pleasure and mine." – Christian Grey
Discover why Ana Steele adores her silver balls with this smooth silicone kegel exerciser and revel in the sensual feeling of 2 weighted balls massaging your G-spot as they jiggle with the most subtle of movements. The action of flexing your muscles around the smooth balls also tones your pelvic floor muscles, leading to greater control during sex and more intense orgasms.
Experience Ana and Christian's pleasure by slipping the smooth ball inside your vagina before a sensual spanking session and stimulate your sweet spots as the weighted balls respond to the action of your play.
Enhance solo play by wearing the Delicious Pleasure balls during clitoral stimulation or wear them during foreplay for a heightened response to stimulation from your partner.
Perfectly sized for kegel ball beginners, the Delicious Pleasure silicone balls have a comfortable girth and light weight for a non-intimidating introduction to vaginal toning exercises. Each ball weighs 32g, giving a combined weight of 64g for an effective workout.
Comment below to enter with the following phrase for a chance to win these Ben Wa balls:
I want to win the Delicious Pleasure Silicone Ben Wa Balls from Lovehoney.com!
This giveaway will run through Friday, May 10, 2013. The winner must reside in the United States. Only one comment per person. The winner will be chosen randomly via Random.org. Pursuant to FTC Guidelines, no compensation or goods have been received in exchange for this post.
Good luck!