Over the years, I've thrown quite a few baby showers for friends. Some have been simple, while others have been elaborate with budgets that would cause you to raise your eyebrows. Since I love party planning and babies, I've liked serving as a shower hostess.
When it came to celebrating Baby Girl's arrival, though, I cringed every time someone mentioned the 'S' word.
"You HAVE to have a shower!" several friends implored. "That's what people do!"
"When have you ever known me to do something because of others?" I replied.
"You'll need so many things for the baby!" a few exclaimed.
"It seems presumptuous for me to have an event where there's an expectation that people buy me gifts. I also don't like the thought of having the friends who will help when she's here spending all this money on throwing me a shower and getting me gifts," I responded.
"Don't you want to be celebrated?" two friends inquired.
"I know I'm open about a lot of things, but I don't want to be the center of attention because I'm pregnant," I commented.
As more and more friends approached me about a possible shower, I realized that some of this was about them…and that wasn't a bad thing. Many of these friends had been through a lot with me over the past three years. Now, we had something – and someone – to celebrate!
So, while at Peacock Café for lunch, a few dear friends and I talked about an event to fete the upcoming arrival of Baby Girl.
"What about an evening cocktail reception?" one friend asked, as I nodded my head in agreement.
"Co-ed!" another friend exclaimed, as she knew that I'd want The Man and several close guy friends there.
I smiled and exhaled, thinking to myself that this sounded like fun! The hostesses also respected my wishes not to: 1) have games; 2) have decorations; or 3) open gifts in front of everyone. (I always feel like the latter is an awkward waste of time that could be better spent enjoying each other's company!)
The reception was held last weekend, and I'm still smiling because of it! Picture forty good friends in a large private room with a bar, hor d'oeuvres, whoopie pies, and lounge music. When the crowd dwindled down, the lounge music was turned off, and the dance party began! Although the reception was supposed to end at 8pm, some of us didn't leave until 10:45pm!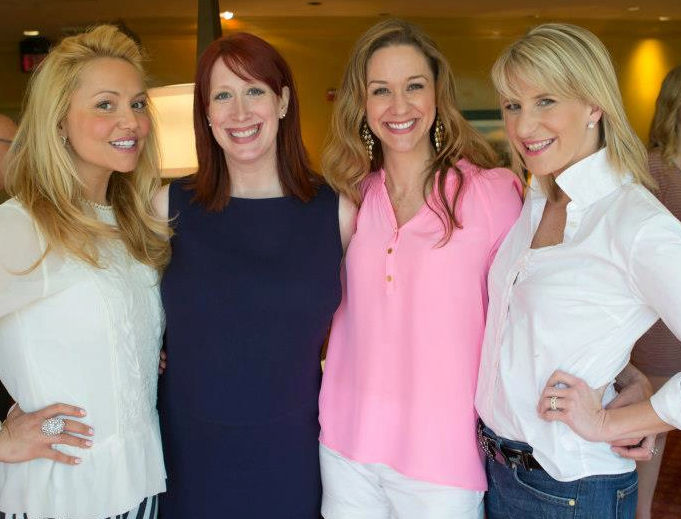 With the fabulous hostesses and dessert maker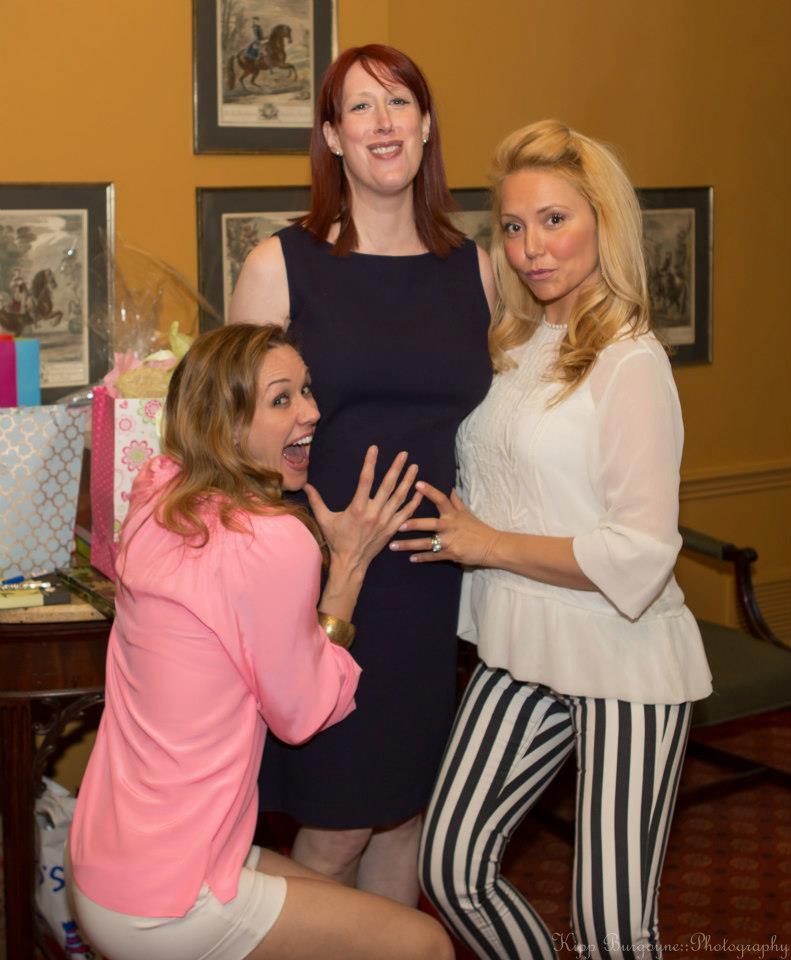 They snuck a belly shot in!
Photo Credits: Kipp Burgoyne Photography
Thanks to the wonderful hostesses and all who attended for their love, support and generosity! The fact that I made it through a shower-esque event without playing baby games or having to wear a hat made of bows was icing on the cake ;).
What are your thoughts on baby showers?
Have you gone to one that you particularly enjoyed?