A female friend recently asked me for my top sex toy picks. Which are the crème de la crème?
In no particular order, I give my highest Squeals of Approval to these body-friendly toys:
Lelo Siri: This small toy is designed for clitoral use, but can also be rubbed over nipples, the outside of the anus, and the labia. This toy has vibrations light enough for a woman in menopause or recovering from illness or surgery and strong enough for a woman who requires significant power.
Fun Factory SmartBalls: These two connected balls are recommended for solo use to strengthen the pelvic muscles, but are amazing for use with your partner during oral or anal sex.
Lelo Tor 2: This cock ring is a great addition to the bedroom mix for women in heterosexual relationships who aren't able to orgasm from vaginal penetration alone. The Tor 2 can also be used between male partners to heighten the sensations during sex. For those of you who are budget conscious or have multiple partners, you can try Trojan Vibrations' disposable cock ring.
Hitachi Magic Wand: This external toy has been a go-to product for women for decades! The high-intensity vibrations aren't for the faint of heart, but there's no substitute for this level of power. (For those women in relationships, it's worth noting that regular use of the wand can desensitize the clitoral nerves, thereby making it significantly more difficult to achieve orgasm during oral sex.)
A recent addition to this list would be the Lelo Ina 2. I love the idea of dual stimulation toys that can simultaneously pleasure the G-spot and the clitoris. The Ina 2 provides all of the benefits of a dual stimulation product without being loud or jarring (as is often the case with "Rabbit" toys). It's rechargeable — four hours of fun for a two-hour charge — with a sleek, aesthetically pleasing design. The toy is pliant enough that you can use it:
Solely for clitoral stimulation;
Solely for internal G-spot stimulation; or
To simultaneously please yourself clitorally and vaginally.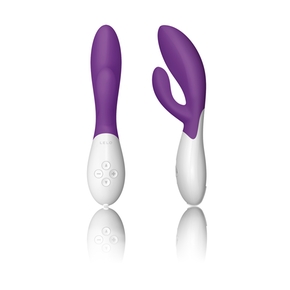 Unlike many dual stimulation toys, the Ina 2 has settings with light enough vibrations so that someone new to adult products won't be overwhelmed. The settings should also be gentle enough for a woman in menopause or recovering from illness or surgery, but you should still talk to your doctor to determine if you're able to use this or similar products.
Although this toy has lighter settings, Lelo's redesign of Ina boasts a very powerful motor that is sure to satisfy a woman who requires very intense vibrations. Press the '+' sign button on the right to increase the vibrations up to six levels. The '-' sign button on the left decreases vibrations, and you can hold it to turn the toy off.
In addition to the varying vibration levels, you can press the top and bottom arrows on the Ina 2 to change the pulsations. Eight different settings truly maximize your options and allow you to find just the right setting for your body.
Lelo's original Ina was a bestselling toy, but the redesign offers the stronger motor and much more. The shaft portion of the toy is slightly longer and wider to allow for a fuller experience. The Ina 2 is also fully waterproof and makes a perfect companion in the shower or bath.
The toy retails for $159, but I promise that it won't be collecting dust in a drawer somewhere. The Lelo Ina 2 is a high-quality, versatile product that you'll be coming back to again and again.
Disclaimer: Pursuant to FTC Guidelines, I received the Ina 2 free of charge in exchange for my honest assessment of the product contained therein.