When I was younger, I thought that I needed to get one bad sunburn at the beginning of each summer as a "base tan." I viewed the fact that I looked like a lobster and was in pain for a week as an occupational hazard of being pale and going to the pool.
I know better now. I avoid spending time in the sun and regularly use sunscreen. My mom had several moles removed over the decades, and my father was diagnosed with skin cancer the year after my mom died. I visit the dermatologist for a mole check once a year. I've had a few moles frozen off, but thankfully the doctor hasn't had to biopsy anything yet.
Even if you have no family or personal history of cancer, it's still important to monitor your skin and see a dermatologist if you notice any changes. If you haven't done so yet this year, now is the perfect time to start! Why, you may ask? Well, May is National Melanoma/Skin Cancer Detection and Prevention Month!
To coincide with this, The Melanoma Research Foundation has launched the #GetNaked campaign.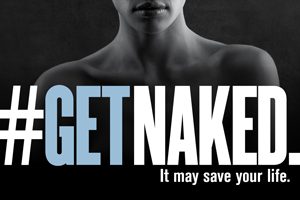 Melanoma is the deadliest form of skin cancer. Nearly 80,000 people will be diagnosed with melanoma this year. Melanoma is treatable, provided that it's detected early.
The Melanoma Research Foundation recommends the following prevention and early detection measures:
Check your skin – regularly.
Research has shown that patients, not doctors, are most likely to spot melanoma because they are most familiar with changes on their own skin. In fact, more than half of all melanomas are detected by everyday people – just by paying attention to their or their loved ones' skin. #GetNaked in front of the mirror and take a closer look at your skin. Learn how to perform a skin self-exam. If you see something funny or different, make an appointment with a dermatologist.
Talk to others.
Don't be afraid to ask about a mole you're not sure about. Ask your spouse, your partner, a friend or family member to help you keep track of suspicious moles and check hard-to-see places. Don't be shy – melanoma isn't, and it doesn't discriminate. Melanoma can develop on anyone – no matter their age, gender or race.
Share the campaign with your networks.
You can share information about this campaign on Facebook, Twitter, your blog and/or in person! You can also switch your profile pic to show others that you're not afraid to #GetNaked in the name of melanoma prevention and early detection. Finally, follow @CureMelanoma on Twitter or like The Melanoma Research Foundation on Facebook to help learn more!
Will you join me in getting naked and helping to spread the word? I'm scheduling my annual mole check appointment tomorrow!