A friend of mine recently relayed the following story to me:
I went to one of those Girls' Pleasure Parties recently. When the consultant began describing her briefcase full of sex toys, I asked whether any of the products contained phthalates.
"What are phthalates?" the consultant inquired.
I then proceeded to tell the group about the lack of regulation in the adult toy industry and the fact that many products contain potentially toxic ingredients such as phthalates. I told them to check out your blog or search online for more information.
My friend and I talked a bit about how it's more lucrative for manufacturers to make products with cheaper materials that are linked to cancer, infertility, and liver and kidney problems. There's also little incentive for companies to educate their employees and the public.
Phthalates aren't the only problem, as Dangerous Lilly describes in this post. At sexuality conferences, many educators and bloggers have expressed concern about the following:
Companies can put "Phthalate Free" on the boxes of their products whether or not that's actually the case. (Again, this is an unregulated industry!)
Some adult toy manufacturers claim their products are made of medical-grade silicone, when that's not entirely true. More accurately, we as consumers need to figure out which products are 100% silicone and which are not.
Toys can be made with body-safe materials, but the pigmentation can be toxic. A Dutch study found that some yellow toys had cadmium levels so high that the EU would require a radioactive sticker!
This concerns me as a sex educator, a toy user, and a woman who has battled cancer. Without proper labeling and warnings, how do we know what we're actually putting inside our bodies?
The lawyer in me wonders if we could lobby the FDA, but as Dangerous Lilly describes, that's problematic because:
We can cry out for the industry to be regulated by our government, but really what will that get us? A higher priced dildo. A "luxury sex toy" that costs double what they do now, and their current costs are already prohibitive to many. Sex toys that take twice as long in development resulting in fewer, quality new sex toys being introduced to the market every year. When you bring the FDA to the party, you get mountains of paperwork, costly fees and annual 3-4 week-long audits to retain your FDA classifications. The better solution just might be to let the industry self-regulate, but with a little help from a neutral party.
So, what can be done?
Enter Dildology.org.
Dildology.org intends to provide material verification services and maintain a public database of the results, adding transparency and oversight to the industry while educating the public about the science behind pleasure products. We stand on our own, unaffiliated and uninfluenced, and we are dedicated to protecting the health and well-being of the dildo-loving population at large through education (and maybe a little entertainment).
The organization is operated as nonprofit, and its mission is based on integrity. An example of this is that they will not accept products directly from manufacturers.
Comprehensively testing the materials within toys costs between $200 and $400. That's a pricey endeavor without any financial backing!
When Dangerous Lilly asked if I would help promote Dildology.org's fundraising efforts, I was all too glad to participate. The industry needs this testing, and we as consumers deserve it!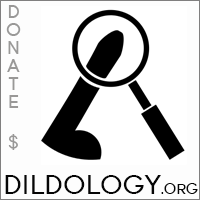 If you're able to make a donation, any amount is appreciated. There are added incentives if you donate at least $15.
Donate $15 or more and you'll receive a coupon code for SheVibe.com or Lovehoney.co.uk.
Donate $25 or more and you'll receive the coupon code and a bumper sticker.
For $50 or more, you'll get the coupon code, bumper sticker and a t-shirt.
And, for $100 or more, you'll receive a complimentary one-hour private toy consultation with Dangerous Lilly herself!
Check out the site, learn more about the products that you're using, promote this fundraiser on social media, and donate if you can!