There's a scene in Sex and the City in which Samantha goes to Sharper Image to return her vibrator. The sales clerk insists that the store sells neck massagers, not vibrators. Samantha then proceeds to give a tutorial to two women in the "neck massage" section about which toys are the most effective for reaching orgasm.
It's important to note that some toys actually excel both in terms of sexual pleasure and neck and back massage. Lelo's Smart Wand is one of those rare few products! On the massage front, my friend saw the unused toy on my couch and asked about it. She had recently pulled a muscle from exercising in her upper back. Several mini massages over the next few days with the Lelo Smart Wand saved her from making an appointment with her massage therapist! Seeing her relief, I, too, began to use it on my neck and upper back and found it to be very soothing.
On the adult toy front, I was a bit hesitant to try the Smart Wand since I've been a fan of my Hitachi Magic Wand for years. However, Lelo's Smart Wand boasts many great features that has caused my Hitachi Wand to have an especially cold winter thus far:
The toy utilizes Lelo's patented SenseTouch technology. When the wand comes in contact with the body, the vibrations increase even more;
The Smart Wand is curved, which is more ergonomically friendly to a woman's body;
The Smart Wand is rechargeable. A full charge provides at least two hours of pleasure and makes it much easier to use with your partner or on travel;
You can choose from eight levels of vibrations and eight pulsating patterns. This toy has light enough vibrations for a first-time toy user or highly-sensitive woman. On the most intense level, though, this is an extremely powerful toy. The versatility in terms of pulsations also allow you to have a variety of options, depending on your mood, body and preference;
The Smart Wand is very quiet for a wand toy;
It's 100% waterproof so you can bring it with you in the shower or bath; and
As with all Lelo products, it's made of body-friendly materials and comes with a one-year warranty.
The Smart Wand is available in medium or large sizes. The large Smart Wand is over a foot long, and the bulbous tip is approximately two inches in length. If you might be using the Smart Wand as a massager, I would purchase the large to allow you to easily reach more spots on your neck and back. If you're only interested in the vibrating elements of the wand, the medium should work well for you.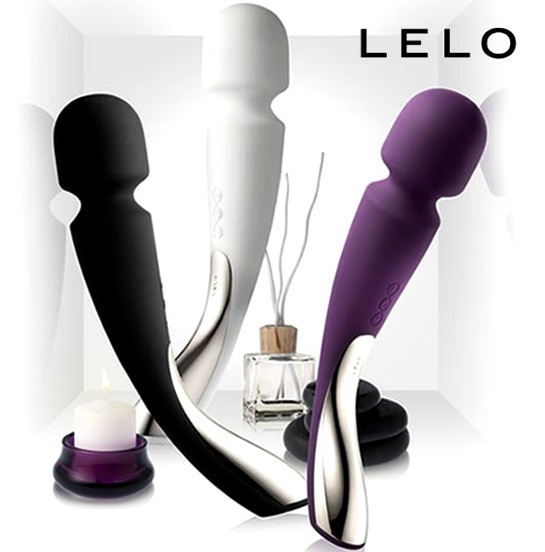 This toy is for external use only so don't be intimated by the size. You can use it on any body part, and men might enjoy the lighter vibrations on their perineum (the area below their balls and above their anus) or on the back of their penis.
The Lelo Smart Wand makes a great holiday gift or large stocking stuffer for that special someone. However, some might get a bit of sticker shock at the fact that the medium wand retails for $129 and the large wand for $189. Just remember that this is a gift that will keep on giving!
I never expected to part ways with my Hitachi Magic Wand, but the Lelo Smart Wand has won me over! It thus gets my full Five Squeals of Approval.
Disclaimer: Pursuant to FTC Guidelines, I received the Smart Wand from Lelo free of charge in exchange for my honest assessment of the product.