Want to win a Seductive Couplets' game?
"What's that?" you might be wondering!
Seductive Couplets emerged organically for a woman in a long-term relationship who observed how easy it is to be in the same physical space as her partner, but not see each other (also known as 'Roommatitis'). She set the stage with one line and let him discover what delicious surprise she had in store, to the delight of them both.
More and more games popped up, and a funny thing happened! Their good humor leaked out into their practical matters, and their disputes over domestic matters subsided. They developed light-heartedness and playfulness in their interactions, and their bond strengthened, creating an atmosphere of love and appreciation.
She decided to share this delicious boon so that other couples could cure their Roommatitis. Seductive Couplets is a game for everyday couples like you and your partner. Enticing and entertaining scenarios with sample scripts provide a playground where everyday events become as sweet as honey. Seductive role-play transports you through space and time, from a high-stakes showdown in the Wild West to revitalizing your senses under a waterfall in the Amazon. Intimate surprises from your partner keep you both smiling all day long!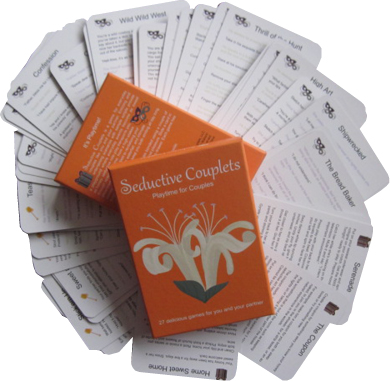 Seductive Couplets keep couples bonded using a couple of our most primal gifts: play and carnal pleasure. Slide a card in his pocket or slip one in her intimates' drawer. Each game has sweet nectar ready to be enjoyed.
Come savor the sweetness inside! Check out the Seductive Couplets' website for more information about the product.
Want to win a copy of the game? Comment once before Monday, March 4, 2013, for your chance to enter. Your comment must include the phrase, "Seductive Couplets."
A winner will be chosen randomly by Random.org. The winner must reside in the continental United States to receive the game. Good luck!
* Pursuant to FTC Guidelines, this giveaway is being conducted without direct compensation to me. One free product will be given to the winner reader in exchange for this post.