Back in March, my double mastectomy surgery was looming over my head. I was on edge about everything, even commenting on Twitter that I was suffering from PMS (Pre-Mastectomy Syndrome). A week later, tears replaced my ire. I cried for seemingly no reason, although deep down, I knew why I felt so raw. I was sad. I was scared. And, I wanted my surgery to be over and done with.
In early April, something switched inside my head. I let go of what I didn't have control over and focused on what I could control. I talked openly with both surgeons about their expectations and my anticipated restrictions. Then, I set up a calendar with what I needed and who was helping on what days with which items. The more I organized my schedule, the more empowered I felt.
What suggestions do I have for others preparing for a mastectomy or a similar procedure?
1. Talk to your doctor openly in your pre-operative appointment. Ask your surgeon any or all of the following questions:
What laboratory tests are required pre-surgery?
Do you need to pre-register before your surgery with the hospital or your insurance company?
How limited will you be when you wake up? (Some of my survivor sisters were unable to move their arms to the side or over their shoulders for weeks.)
How long will you be in the hospital?
What prescriptions will you need to take once you are out of the hospital? Ask your doctor for the prescriptions in advance of your surgery so you can fill them beforehand.
How many drains will you have, and how long will they need to stay in?
What type of assistance will you require once you are able to go home? Should you hire a nurse?
How long will it be before you can shower? Shop for groceries? Return to work? Drive? Have sex? Make your children dinner? Walk your dog?
How often will you need to visit the doctor after your surgery? Make your appointments and arrange transportation before your operation.
2. Stock up on surgical bras. For at least one month, you'll be advised to wear a surgical compression bra 24 hours a day. Get several in advance so you're not dependent on the hospital for providing one or a loved one for doing your laundry.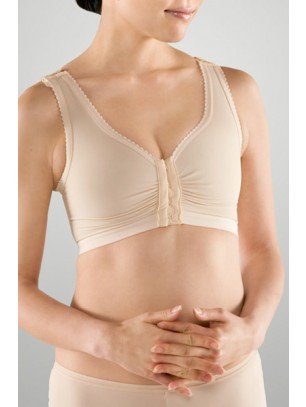 3. Purchase and install a detachable shower head to allow you more options for bathing. You might also want to get a shower chair.
4. Talk with your doctor about shaving and deodorant restrictions. (At my 10-day follow-up appointment, I found out that I was allowed to use an electric razor and Crystal Deodorant. I wish that I had known that earlier since I fear that I offended many a caregiver and visitor.)
5. Do you have loungewear and pajamas that button or zip up? If not, purchase a few items of clothing that are easy to put on and take off. Don't expect to have enough range of motion in your arms to put on a round neck sweatshirt.
6. Set up a calendar to make sure that you have assistance during the first two-three weeks. Send all of your caregivers an email with relevant names, phone numbers, addresses, dates and tasks. Be as detailed as possible with your caregivers before surgery.
7. Accept help. A lot of us want to do everything ourselves, but that won't be realistic after surgery. People will approach you before you head to the hospital with offers to help. Figure out who you feel comfortable with having at the hospital and in your home and take them up on their kind offers!
I've found that I do better with help those first few weeks after surgery, rather than just company. (I don't have the energy to show well-intentioned visitors where things are in my place.)
I'm thrilled to report that my double mastectomy surgery on April 25th went very well. It wasn't that painful, and I was able to get out of bed, use my phone and hold a small cup once with ease. I'm also incredibly thankful that I surrounded myself with such a wonderful support system – all of whom took the time to read the five-page email that I sent them before surgery and gladly assisted me with whatever I needed!
So, readers, did I miss anything? What tips do you have for future patients?