Want to win one of Fun Factory's Stronic toys before the product is released to the public? Read on to find out more about the contest and the product.
The Fun Factory Stronic is more than just a vibrator; it's a pulsator! The toy relies on patented technology that enables the product to thrust, rather than vibrate. The Stronic doesn't contain a motor, but instead utilizes a complex weighted device that moves silently back and forth. In a study of 1,350 people, 87% indicated that they prefer the pulsations of the Stronic over a traditional vibrator.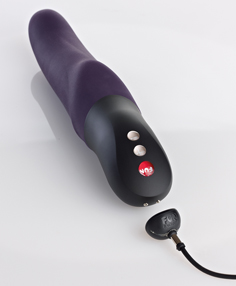 The Stronic is one of three waterproof, body-friendly pulsators that Fun Factory will be releasing in 2013. You can enter to win one of four Stronics by:
Watching one of the short videos about the Stronic;
Thinking about how you or someone else would look using the Stronic;
Taking a photograph of your face with that reaction; and
Sending that photograph to marketing (at) funfactory.com or citygirlblogs (at) gmail.com by December 7th.

Rules:
All photographs must be received by December 7, 2012;
No nudity;
Only facial photographs are eligible;
Only one face in each photograph; and
Fun Factory will contact all winners by December 17, 2012.
Good Luck!!!
Disclaimer: In accordance with FTC Guidelines, no compensation was received for this post.