When I saw, "Ask Siri About Sex," on my Twitter stream, I initially thought it was a typographical error. I was bothered that Suri was growing up so quickly. Her love of high heels is one thing, but publicly talking about sex?!?
I clicked on the link and laughed out loud, as I learned about the iPhone Siri. Once I realized that there was a new technology application called Siri, the attorney in me wondered what Lelo, the award-winning adult toy company, thought about it.
See, Lelo had come out with an incredibly powerful intimate massager named Siri in 2010 — long before Apple introduced its own version of Siri. As Lelo describes in the company's open letter to Apple:
Siri will become a term that defines the best of both worlds – Apple representing business and Lelo representing pleasure.
I finally got my hands on a Siri, and readers, you'll be asking this toy for so much more than you'll ask the Siri app.
Most small sex toys are designed for those who occasionally use sex toys and don't require a lot of power and vibration. They're made with cheap (and often potentially toxic) materials and don't last very long. And, their shapes and colors don't lend themselves to being brought into the bedroom with a partner.
"I want you so much, baby. Now let me go grab my lipstick vibrator. Or, do you want the dolphin or Hello Kitty this time?"
As a seasoned *cough* toy user and reviewer, I look for certain elements in an adult product:
Is it free of potentially toxic phthalates and body safe?
Could the toy work for both a woman battling illness or very sensitive to clitoral stimulation, as well as a woman who prefers very powerful vibrations?
Is the product quiet enough so that neighbors, roommates or family members won't hear?
Would a woman be embarrassed if airport security, her mother or her child found it? (AKA Does it look like a sex toy?)
Can the product be used in the bedroom with your partner?
Will this toy last and not break after a dozen uses?
Lelo's Siri fits the bill for all of these and more!
As with all Lelo products, Siri is body friendly and ergonomically friendly. Press the "+" sign to turn it on. Keep pressing that button to increase intensity. Press the "-" sign to decrease vibrations or hold that button for several seconds to turn it off. The arrows can change the pulse or speed of the vibrations for different sensations.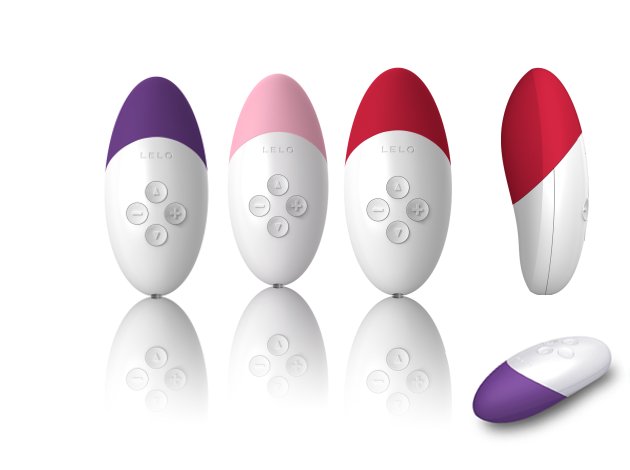 On the lowest level, the product is perfect for those women who are hypersensitive or who are recovering from illness. On the highest level (six), the toy will satisfy the more discriminating consumer.
Siri is quiet, fits in the palm of your hand, and doesn't look like a sex toy. It's actually designed as a personal massager so it can work all over your body. Siri isn't meant for internal use, though, so stick to external stimulation.
Use Siri on your clit, the outside of your pussy, your nipples or the outside of your anus. Try the Siri at different angles since you might prefer the side of the toy more or less than the large tip (where the color is).
The Siri can also be used with your partner. Hold it against your clit while you're on top of your partner or he's behind you. Place Siri on the bottom side of your man's shaft or rub it against his perineum (the spot between his balls and anus) during a hand job or oral sex. Or, hold the toy on light vibrations against his balls while you're having sex.
After a two-hour charge, you can use the toy for at least four hours. You won't have to worry about the Siri dying just as you are revving up!
The Siri comes with a one-year warranty and retails for $99. I haven't given a toy a full Five Squeals out of Five* in a while, but this one deserves it.
The only thing you need to ask is how soon can it be shipped to you!
Pursuant to FTC Guidelines, I received the Siri free of charge in exchange for my honest assessment of the product.
*City Girl's Squeals of Approval Chart:
One Squeal: Bad. This toy is not worth your money. Do not pass go! Do not pay $2, let alone $200.
Two Squeals: Slightly Sub-Par. You won't hate this toy, but you won't necessarily like it either.
Three Squeals: Average/Good. This toy might not be the most innovative or satisfying, but it serves its purpose.
Four Squeals: Very good. A strong sex toy with minimal negatives that will be part of your regular line-up.
Five Squeals: Great. No toy does it better!