So where do you go to find information about female sexuality?
If you consider looking in your local bookstore, don't be surprised if you don't find much. Unfortunately, very few resources for this important subject are available to women (or men). This lack of clear and concise information inspired board certified OB/GYN Dr. Diana Hoppe and sexologist and therapist Dr. Jennifer Gunsaullus to write Am I Normal?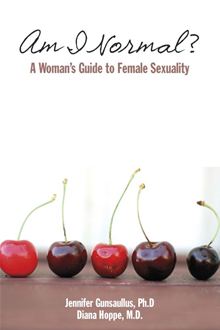 Am I Normal? provides clear, accurate, and simple-to-read information that gives you permission to finally understand, explore and "know" the depths of your body physically, emotionally and spiritually. Female sexuality is an incredibly complex topic, and this e-book will get you started and more comfortable with each intriguing aspect of it. It's just the beginning of connecting to an exciting and intimate you and a feminine identity that may have been long suppressed!
Each chapter in Am I Normal? will focus on one critical step in your journey towards better understanding your body. Chapter 1 examines the intriguing history of female sexuality, and Chapter 2 informs readers about female sexual body parts. Chapter 3 and 4 will guide you to reflect on what you've learned about sexual topics and where you stand now. Chapter 5 takes you through the important topic of body image and insecurities, and Chapter 6 will assist you in exploring your body regarding sensation and pleasure. All chapters include worksheets to help you connect with your own sexual identity. These chapters and worksheets are information-rich and guide you in the process of discovering a new, more aware, woman within you!
I enjoyed the e-book's blend of education with a focus on personal exploration through the worksheets. The authors also manage to convey information in a way that's fun and accessible for women of a variety of backgrounds and experiences.
Want to win a copy of Am I Normal? Comment once before Monday, February 25th for your chance to enter. Your comment must contain the following phrase:
Am I Normal? Yes!
A winner will be chosen randomly via Random.org. One lucky winner will receive an e-copy of the book to their Kindle or mobile app. Additional copies of Am I Normal? may be purchased for $4.97 via Amazon.com. Good luck!
* Pursuant to FTC Guidelines, I am conducting the giveaway and arranging for a copy of the e-book to be given to the winner at my own expense.