The dog days of summer mean that it's the perfect time for a great beach read…and giveaway!
In her newly released book, Turquoise – A Love Story, Ayshe Talay-Ongan digs deep into her own life experiences to pen this high-impact novel which spans two decades, three continents and two marriages. She says the novel is written to entertain and inspire both women and men in quest of genuine love who struggle with the roles and expectations heaped on them by societal context or circumstance.
Released earlier this year, Turquoise is the story of an enduring and passionate love affair between a Turkish woman and psychologist Yasmin, and Renan, who is the husband of Yasmin's school friend, Ani, both of whom are of Armenian origin. Upon laying eyes on Renan for the first time, Yasmin is inundated with the knowledge that she has come upon her destiny, and falls deeply in love. The challenges ahead of her loom, not the least of which is loyalty to her friend, the ethnic divide, political and socioeconomic turmoil, or immigrating from the country of their birth when the going gets tough.
Dot Whittington, the reviewer for The Weekender says, "Turquoise is not a simple romance but a tale of passion and love – the love of a child, a job, two countries and a man."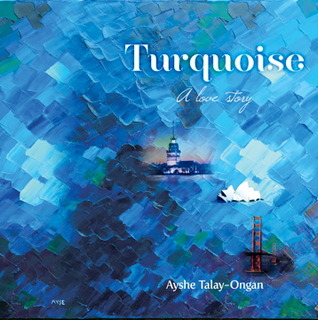 Yasmin moves through the years with professional achievements, entrepreneurial ventures and travels, friendships, relationships and a quest for motherhood in a love-starved marriage. Turquoise also explores the violent consequence of historical and cultural contempt, which impacts Yasmin and her family above and beyond the story of unrequited love and family loyalty. According to Wendy O'Hanlon of Acres Australia, "This novel is a strong comment on the evil of how all humans have such traits and some countries are more openly prejudiced than others." She continues, "This is a big, powerful novel of love, angst, political unrest and ethnic hatred. The author has skillfully penned these pages so that the characters are raw and real, their emotions searing, their plight palpable."
Dr. Ayshe Talay-Ongan is a psychologist and an emeritus academic. She is the author of three textbooks in developmental psychology. Turquoise is her first novel. Its sequel Emerald is currently under way. More information about the novel and author are available here.
I have to smile that I'm posting about this giveaway today, as there's a reunion tonight in DC for all those who attended my high school in Turkey. For those of you interested in gemology or etymology, InternetStones.com indicates that the word, "turquoise," is probably derived from Turkey because the Turkish merchants and dealers took these gemstones to Venice for sale.
If you'd like to enter for a chance to win the book, Turquoise, just include your favorite gemstone in your comment.
You must enter by Friday, July 20th for a chance to win a hard copy or e-version of the book. Hard copies may only be shipped within the continental United States. The winner will be chosen via Random.org. Good luck!
* Pursuant to FTC Guidelines, this promotion is being conducted without compensation.